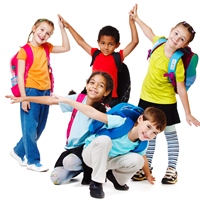 1. Restart Routines. Kids need time to adjust, so provide a head start. About two weeks before school starts, make bedtime earlier and dust off the alarm clock. Aim to serve meals at approximately the same times your child will be eating throughout the school year.
2. Go Over Ground Rules. Decide when and where she'll do homework. Be sure to cover tricky topics: Can she watch TV after she finishes her work? How late can friends visit on school nights? When's the caffeine cutoff? What about chores? Establishing guidelines and going over them together will make sure you're on the same page once school's in session.
3. De-Stress Dressing. Let your child choose special first-day clothes — a souvenir shirt from a park you visited this summer or a new dress to match her best friend's. To avoid arguing over school-appropriate clothes, bring the fall wardrobe front and center. Replace sandals and swimsuits with socks, sneakers, and lightweight sweaters.
4. Develop a Game Plan — Together. Discuss goals for the upcoming year, triumphs from the year before, and some skills he would like to improve. Goals might include:
• Making three new friends or sitting at a different lunch table every week
• Becoming captain of the chess team or a spelling bee finalist
• Making the honor roll
5. Set Up a Homework Area. Create a quiet, well-lit space for study. Prevent first day freak-outs by hauling out the necessities: backpack, dictionary, atlas, calculator, art supplies, paper, and pencils. Make it personal and fun, but free from distractions.
6. Sharpen Skills. Add more factual brain-bending activities into the everyday mix. Sudoku games, crossword puzzles, word searches, and arts and crafts all encourage your child to sit still, focus, and complete a task from start to finish.