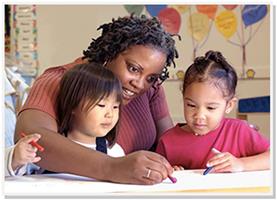 Family volunteerism or participation in the classroom environment is an important component in student achievement. It is vital that teachers know families and begin to understand more of an overall family picture. Just as important is families' understanding of the classroom and teaching strategies. Although essential, it can be hard to get families into the classroom. Here are some tips:
Think about how you are communicating with families. Are you inviting last minute or are you giving ample time for families to prepare? Giving less than three weeks' notice can make it difficult for families, particularly those who work, to attend. More time is always better, as long as frequent reminders are given. Take time to talk to families during pick-up and drop-off or think about calling them if you consistently miss conversation with them. Posters, flyers and notes in cubbies will be an effective communication alternative for some families, but many families are becoming more and more technological and often prefer to receive information through text, email, or social media. Start a text group, through Remind, for example. Utilize Facebook and start a group page for the families in your classroom. Make use of your center's website and encourage families to do the same. Inviting three times in three different ways is a good rule of thumb. For example, send a text message, remind families when having face-to-face conversations, and have the children make invitations.
Welcome and encourage families when they visit. A smiling face and a friendly greeting can go a long way. Make sure staff ensures that all families feel welcome from the moment they walk in until the time they leave. It is also imperative that families be given clear guidelines about when and how to volunteer. Recruiting a room manager can make this easier on busy teachers. This person could be a child's family member who can help schedule shifts, assign roles, give instructions, and answer questions. It may also be helpful to try an on-line alternative, such as VolunteerSpot.com. This type of tool allows families to schedule themselves. It also sends automated reminders.
Establish as much predictability as possible. This may look different at every center, but consistency can be crucial. Determine whether you are comfortable with drop-in visits or if you are more at ease establishing a specific time of day for stays. Can families stay as long as they desire, or do you prefer giving a start and end time to visits? Contemplate allowing families to have breakfast or lunch with their children any day of the week or establish a day of the week where this is okay. Consider weekly or monthly sessions where families can come into the room on a set day (every Friday for example, or the second Friday of each month).
Determine your comfort level with the type of participation you are expecting once families arrive. How can families come in and experience true classroom life in a safe and comfortable way? Can families participate without performing? Can families simply come in to help prepare materials for special events or even for monthly lesson plans? Could they sit with the children during story-time, as opposed to being asked to read? For many families, the idea of being the center of attention, especially when it comes to reading to others, can be highly stressful. Pay attention to body language and actively listen for cues as to which type of classroom engagement each family is comfortable.
Get to know your families. As important as families' understanding of classroom culture and teaching methods, is teachers' effectiveness in learning about each family's values, principles, beliefs, and hopes. How can this be done effectively in the time families are present? Can families come in and make a family recipe with the children? Can they come in and share about their family by bringing in a photo album, or by talking about their own family's traditions? Can they participate in show and tell with their child? Allowing time to understand each family's culture can create a tremendous sense of value.
Be thankful! Let families know that their participation, at any level, is valued. Hand-write thank you cards or have the children create thank you cards. Send photos or videos via text or email. With a family's permission, add these to the center's website or classroom Facebook group. Appreciation goes a long way and will often keep families returning to help.
Sources: Family Engagement Training, Katherine Herron, Early Childhood Center, Indiana University, 2015; http://www.edutopia.org/blog/strategies-for-engaging-parent-volunteers-karen-bantuveris; https://www.responsiveclassroom.org/article/wonderful-wednesdays; https://www.youtube.com/v/WsZaOBmIdYI