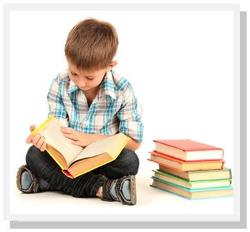 Last night I spent about 20 minutes working on one math problem with my daughter. Her problem required her to find the missing sides of a rectangle using the principle of perimeter as her guide. It seems like a straight forward enough problem until you realize that my daughter is in second grade. As a former teacher homework is treated with the utmost importance in my home, so even though I knew the problem wasn't a second grade standard, and developmental inappropriate we still tried the problem. Having taught 5th grade math I was familiar with the concept and figured it would be no big deal. WRONG! After trying to coach my daughter through the problem it became clear that this problem was not giving her a solid basis that other perimeter work could be built upon, nor did it fall into one of the three categories that homework typically addresses: practice, preparation, or extension. I figured that my daughter and I probably weren't alone in our homework struggles, so I jumped on the internet to see what research had to say about homework.
I came upon research from Harris Cooper, a professor at Duke University, the nation's best-known researcher on homework. His research found that elementary school students get no academic benefit from homework -- except reading and some basic skills practice -- and yet schools require more than ever. High school students studying until dawn probably are wasting their time because there is no academic benefit after two hours a night; for middle-schoolers, 1 1/2 hours. And what's perhaps more important, he said, is that most teachers get little or no training on how to create homework assignments that advance learning.
Like most things in life, homework cannot be summed up by one definitive statement, mostly because not all homework is created equal. Cooper suggests the common "10-minute rule," which states that all daily homework assignments combined should take about as long to complete as 10 minutes multiplied by the student's grade level. He added that when required reading is included as a type of homework, the 10-minute rule might be increased to 15 minutes. If your child is spending more time than that on homework, then it could be more detrimental then helpful. For example, using the 10-minute rule my daughter's homework was not appropriate. We spent at least twenty minutes on the one math problem, and according to the rule we should only spend twenty minutes on all of her homework. In the end, my husband and I decided to forgo the 'devil' math problem and focused on our daughter's other homework. While we rarely do this, we felt we needed to step in and respectfully say no to her teacher. We know that her teacher wants her to be successful, but this particular assignment wasn't achieving that goal.
Source: http://www.nytimes.com/roomfordebate/2010/12/12/stress-and-the-high-school-student/homeworks-diminishing-returns