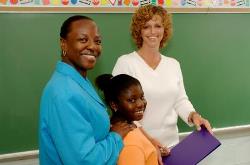 Pick-up and drop-off are often hurried times for families, which makes it difficult to engage them in meaningful conversation. Pick-up and drop-off is not the time to have long, complicated, serious conversations regarding problems or big issues. However, utilizing child-focused communication that is informal, brief, and simple can create increased potential for getting to know families.
So what strategies can we use to maximize impact and efficiency during these times of day?
Greet families enthusiastically and genuinely and acknowledge them in a special way
Do your best to be aware of your own triggers and biases with families. Try to put those aside so that you are meeting the needs of each family. Every family wants and deserves to feel special and welcome.
For example, say to the classroom, "Look who's here! Jane and Mr. Smith. Let's say hello!"
Stay strength-based and share specific information
Find at least 1 positive thing to say about even your most difficult child. Strength-based communication builds trust. Every family wants to know that you see good things in their child. Staying strength-based enables a family to see you as more of a partner, when it is time to have a more difficult conversation.
For example, instead of saying, "Jane is doing fine," say "You wouldn't believe how much fun Jane had playing in the kitchen today!"
Celebrate achievements
Create portfolios, scrapbooks, or other collections of children's experiences and encourage children to show these off during pick-up times.
Keep track and be sure to address missed families
If you have missed a family during the week, write a nice note during nap time talking about what their child has learned.
Communicate via texts, emails, Facebook groups, and school websites. Due to time constraints and the reality of the modern world, many families prefer and respond more effectively to this type of communication.
Pictures are often a great way for families to see what their children are doing! Pictures and/or videos can easily be shared via technology.
Sources: Family Engagement Training, Katherine Herron, Early Childhood Center, Indiana University, 2015; http://www.rtinetwork.org/essential/family/engagingfamilies