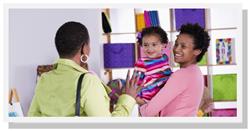 In the field of early education, family engagement is not a new term. Many child care providers give thought to family engagement and implement it in some form. Realistically, there are many different ways to think about the relationship between families and early childhood providers. Attendance at school events, contacts with families, program satisfaction, family-teacher relationships, attendance, and family volunteerism can all be considered pieces of family engagement.
Quality family engagement involves collaboration between the program and the parent. There is a strong focus on relationship-building. Families are respected as an equal partner and are empowered as the experts in supporting their children's learning and development. Respectful interactions between parents and caregivers are encouraged as a way to maximize communication and carry-over between home and program. As a result, programs move away from "doing to" families and move toward "doing with" families.
Why should educators and families care about this type of family engagement? Research shows that empowering families through quality family engagement has an impact, regardless of family income, ethnic background, or parent education level. Attendance improves, as do social and behavioral skills. Additionally, literacy and math scores are higher. Most exciting is that these effects are not just seen in early years. Positive, effective relationship-building in the preschool years influences the way families approach schooling throughout their children's lives, because families feel that their actions make a difference. They see the importance of education and are able to convey that to their children.
The results speak for themselves. Students have lower rates of alcohol use, violence, and anti-social behavior. Homework gets completed more consistently and families see higher grades and test scores throughout high school. Graduation rates are higher. Students have realistic plans for the future and more often enroll in postsecondary education. Overall, developing positive, effective relationships in the early years influences the way families approach the rest of their children's schooling.
Source: Family Engagement Training, Katherine Herron, Early Childhood Center, Indiana University