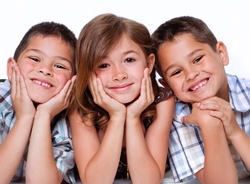 Successful relationships occur when children are given opportunities to interact in a positive way. These interactions can range from simple tasks like passing snacks to each other, to more complex interactions like working together to complete a project. Important skills such as being aware of others, sharing, and empathy, persisting to completion, negotiation and problem solving are all acquired while interacting or playing with others. Why is this important? Through relationships with other people, children learn communication and cognitive skills. Children who can make friends are more equipped to have better social and academic outcomes later in life.
What can you do to foster friendships among the children in your care? Through thoughtful environmental and lesson planning, children will have opportunities to select activities that are meant for more than one child. Even activities which may seem more solitary in nature can have a social component; for instance the computer can be used by two children rather than one, or the puzzle area may have two chairs at the table.
Provide more concrete support to those children who are having trouble joining play by assisting them. Help them find the words they may be lacking in order to ask to join a group. Raising a child's confidence level enough to be comfortable asking to join the play on their own could take many attempts. Be supportive and encouraging, while trying not to do all the work for the children.