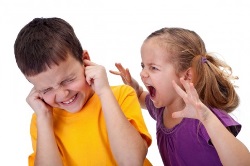 In today's world it is very much a true statement that most children do not have to deal with enough conflict in their everyday lives. As normal functioning adults we do not like conflict and try to avoid the conflict. Adults like to play referee and stop the conflict too quickly. When we do this we are not giving children time to develop proper mediation or negotiating skills. A certain amount of stress and conflict are oaky for children to have to deal with.
When children deal with conflict they learn:
– how to negotiate their way through problems
– that conflict is part of everyday life
– lifelong mediation skills
– independence
When we are adults in young children's live we must teach them that we do get angry and that life is sometimes unfair. We have to teach them how to deal with those emotions and that conflict.
Below are some things to tell children when dealing with conflict:
– think about what happened
– say what you feel
– listen to the other person
– how are we going to fix it
– stick to the solution
– talk again if the solution is not working