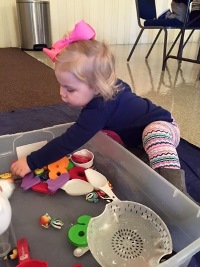 What is an "Un-Toy"? At 4C Play & Learn we refer to things that most people have around the house that can be turned into play materials as "Un-Toys". These inexpensive items can provide hours of fun for children while they practice important developmental skills. This month: Water Tubs
Materials
Container of water-an under bed plastic tote or any flat, shallow container that will hold water (2-3 inches of water is plenty)
Measuring cups, yogurt containers or other small plastic food containers, lids that will float, squeeze bottles, etc.
*Children should always be closely supervised when playing with water.
Instructions
Provide the materials and encourage your child to pour, dip or squeeze.
Variations: Add sponges or washcloths, a little dish detergent and plastic toys or dolls who need a bath. Add plastic vegetables or fruit and scrub brushes, colanders, etc.
Develops
Eye hand coordination
Math concepts like size, volume, and temperature
Science concept of Cause and Effect
Problem solving