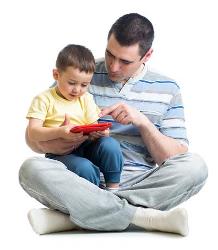 Children need specific instructions in order to achieve their learning goals. Making the most of instructional time is critical for teachers who have children who use challenging behaviors. Child Focused Instructional Strategies (CFIS) are a more intensive way to improve child outcomes. Keep in mind that all instruction takes place within the context of an interaction, most oftentimes an adult-child interaction, but peers may also be effective teachers.
Here's the process:
Have a clear learning objective.
Gather information about where the child's current level of performance has them operating.
Look at your schedule for the day and find specific times when you could give that particular child special instruction.
Design the special instruction and write it out for the child's plan.
Implement the plan.
Then after implementing the plan, collect information once again on the child's performance.
Let's focus on instructions. In CFIS, you must use instruction as a tool. The purpose of instruction is to tell the child what to do. Teachers sometimes give whole group instruction, other times it will be to a specific child. Instructions are to be used as a guide for the child to a specific activity, task or material that that you want that student to pay particular attention to. Good instructions should be short, clear, focused on observable behavior and positive. See the information below for specific examples found in the book Building Blocks for Teaching Preschoolers with Special Needs by Susan R. Sandall and Ilene S. Schwartz.
Good Instruction
"Point to the train."
"Nhan, come play baseball with us."
To a child who is running around the room during free-choice time: "Drew do you want to play at the sensory table with the blocks?"
Poor Instruction
"I see lots of pretty pictures. Do you see a picture of a train?" (Note: the correct answer to this is "yes", not pointing to a picture)
"Nhan, look, lots of kids are playing baseball. You like baseball, don't you? What would you like to do now?"
"Drew stop running around and think about what you want to do. You need to make a choice."