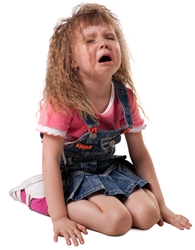 A temper tantrum happens when a young child has an extreme behavioral reaction to overwhelming negative emotions. They often start small (whimpering, whining or looking frustrated) and then escalate into screaming, sobbing, kicking, and hitting. A child may even throw himself on the floor or hold his breath. Tantrum behavior often begins when children are between 12-18 months and are common in 2-4 year olds. Tantrums happen for a variety of reasons.
Young children's feelings develop before their ability to understand and manage those feelings.
Children may want to do something they don't yet have the ability to do, i.e. zip a zipper or buckle their own car seat.
A young child's cognitive and physical skills develop more quickly than his ability to communicate with words. The good news is that the development of language skills often helps reduce the frequency of tantrums!
Tantrums are also common when children are tired, hungry, or at the beginning stages of an illness.
Sometimes children just need your attention! Keep in mind that even when they get the attention they were craving from you, they may be already caught up in the tantrum and can't always stop the behavior.
Preventing tantrums
Children are more prone to tantrums when they are tired, overstimulated, or out of their normal routine so plan for success, for example, avoid a trip to the grocery when your child is already tired.
Look for early cues and ask your child if they want help with a task that is frustrating.
Young children need more time than adults to transition from one activity to another. Give a 5 minute warning before leaving an activity, getting ready to nap, etc.
Children are inexperienced at managing strong emotions and need help from a trusted adult. Anticipate difficult situations and stay close to provide help and be sure to let her know when she has done a good job even when she was stressed, tired, or upset.
Source: Talaris Institute