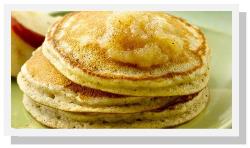 Applesauce Pancakes
1 cup applesauce
1/4 cup dry milk powder, non-fat instant
1 cup water
2 eggs
1 tablespoon canola oil
2 cups all-purpose flour
2 tablespoons sugar
2 teaspoon cinnamon
2 teaspoons baking powder
In a medium mixing bowl, combine applesauce, dry milk powder, water, eggs, and oil.
Add flour, sugar, cinnamon, and baking powder.
Stir until mixture has only small lumps. Place large skillet on medium high heat.
Spray skillet with non-stick cooking spray.
Pour 1/2 cup batter onto skillet.
Turn pancake when bubbles form on top of batter.
Cook the other side for about 1 minute or until golden brown.
Oven-Baked Potato Pancakes (Latkes)
2 tablespoons olive oil
3 tablespoons whole wheat flour
1 teaspoon baking powder
3/4 teaspoon salt
2 russet potatoes, large
1 onion, small peeled
1 egg, large
applesauce and low-fat yogurt
Preheat oven to 425°F. Lightly oil the baking sheet.
Mix the flour, baking powder, and salt, in a small bowl.
Use the large holes on your grater to grate the potatoes and onion and stir together into a colander.
Using a paper towel, press the potato mixture down to remove excess moisture.
Stir it and blot again.
Mix the potatoes and onion together in a large bowl with egg.
Add flour mixture and stir well.
Put a scoop of the potato mixture on the baking sheet and spread it into a round, flat nest: it should make a circle that's about 3 inches wide and 1/4 inch thick. Repeat to fill the sheet.
Bake until the bottoms are deeply golden, 15 to 20 minutes, then turn the pancakes over, and bake for 10 more minutes.
Serve the latkes with applesauce and yogurt (optional).
Recipes from USDA Mixing Bowl