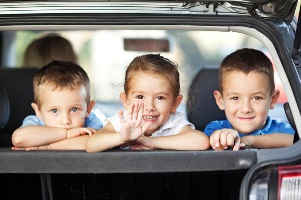 Here are some things to do to make the trip more fun!
Sing songs with many verses. Some Play & Learn favorites include: The Wheels on the Bus, Old MacDonald, If You're Happy and You Know It, The Ants Go Marching, and Johnny Works with One Hammer.
While listening to the radio or to a children's CD, identify the musical instruments you hear. You can also listen for who is singing (man, woman or child) or whether the song is fast or slow.
Start a story—"We got in the car and went…," "Daddy was going to the store to buy…," "The dog was black and went to…," Encourage your child to add to the story. At first they may not add much but, given time, their stories will become more elaborate.
Play the "My Favorite" game. Name your favorite animals, vegetables, fruit, foods to eat, desserts, places to go, sport teams, colors, etc.
Before you go, make an "I Spy Bottle" to have in the car for your child to use. Fill a plastic water bottle with sand, rice, or salt and add small items like a ring, button, toy animal, etc. Encourage your child to find the items and name them for you.
Animal Sounds—Make animal sounds and let your child guess the animal. Then, let your child make the sound and you do the guessing.
Counting Game—choose an object (dogs, red cars, people, etc.) and encourage your child to count the objects as they see them. Writing down what you found along with how many and sharing it with other family members makes it fun and important to the child.