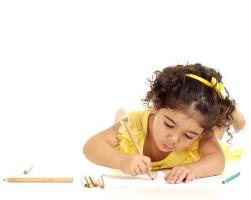 Creativity helps preschoolers become confident learners who are eager to try new things. And the holiday season is the perfect time to give your child's creativity a boost.
Ask your preschooler to help you create:
Greeting cards. Show your child how to fold construction paper in half. He can decorate the outside with drawings. Ask your child what he would like to say, then write it down for him inside the card. Once it's finished, have him try to sign his name!
Homemade Gift Wrap. Have your child decorate large sheets of craft paper, drawing paper or brown paper bags. Cut the paper bags open if you are using them. Use it to wrap gifts for friends and family. This adds a personalized and charming touch to the gift you are giving.
Holiday decorations. Use different sizes of paper plates to create snowmen. With your help, your child can cut out shapes and glue them on the plates to create the eyes, nose and mouth. Your child can even create snowflakes by arranging and gluing cotton swabs on pieces of paper.