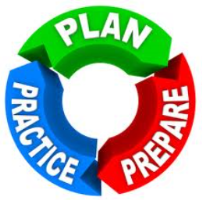 When a natural or man-made disaster happens, it can be scary for everyone involved. Below are some quick tips on what your child care facility can do to help prepare for an emergency.
MAKE A PLAN: Help ensure that all staff, parents and guardians are informed and know how to respond in various types of emergency situations.
How to evacuate children and move them to a safe location
How to notify parents and guardians
How to reunite children with parents or guardians
How to assist infants and children with specials needs in emergency situations
PRACTICE EMERGENCY DRILLS: Different types of emergencies require different types of responses.
Be sure to practice each type of drill so they are familiar.
Evacuation drills
Shelter in place drills
Lock down drills
CREATE A DISASTER KIT: Make sure you know all the special and medical needs of all the children in your program.
Contact info and a picture of all children
List of special needs
First Aid supplies
Comfort items
Activities for children
Battery powered flashlight and radio
Medical supplies
Non-perishable food items