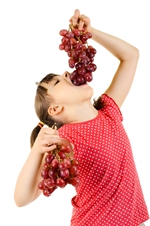 Check out a few of the great tips from http://www.choosemyplate.gov/fruits-tips on creative ways to incorporative more fruits into the daily meals and snacks served in your childcare.
General Tips:
Refrigerate cut-up fruit to store for later.
Buy fresh fruits in season when they may be less expensive and at their peak flavor.
Buy fruits that are dried, frozen, and canned (in water or 100% juice) as well as fresh, so that you always have a supply on hand.
For fresh fruit salads, mix apples, bananas, or pears with acidic fruits like oranges, pineapple, or lemon juice to keep them from turning brown.
For the Best Nutritional Value:
Make the most of your choices by using whole or cut-up fruit rather than juice, for the benefits dietary fiber provides.
Select fruits with more potassium often, such as bananas, prunes, dried peaches and apricots.
Vary your fruit choices. Fruits differ in nutrient content.
To get the whole article and many more great ways to add fruits into the children's
daily consumption, see more at:
http://www.choosemyplate.gov/fruits-tips#sthash.q3JjPa74.dpuf