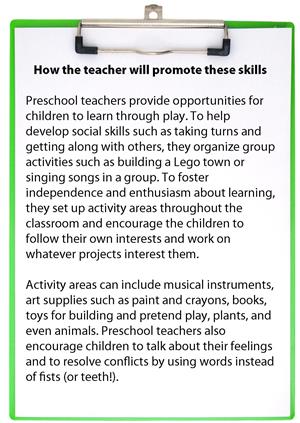 In preschool, your child will learn to:
•Separate from you fairly easily, saying good-bye without too much fuss.
•Adjust to new situations, especially the school routine.
•Trust and take direction from teachers.
•Express emotions verbally to adults and other children ("I'm mad!" "I'm sad").
•Show independence and stand up for herself when facing conflict. (For example, she might ask another child to stop knocking down the tower of blocks she's building.)
•Follow classroom rules and routines, such as sitting quietly in a group, raising a hand before speaking, and helping to clean up after herself.
•Play well with other children and be willing to share.
•Recognize the feelings of others. For example, when someone asks, "How did Susie feel when she fell off the swing?" she will be able to say, "She was scared."
•Demonstrate a sense of humor, and be silly in an attempt to make other people laugh.
•Play with other children rather than just side by side.
•Enjoy playing "house".
•Help with chores, such as sweeping or putting toys and books away.
•Focus on one activity for 10 to 15 minutes (by age 4).
Source: Baby Center Expert Advice