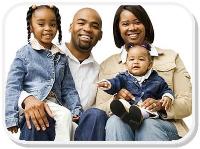 Parents and guardians are often invited to take an active role in planning field trips, coordinating and gathering information for projects, volunteering in classrooms, and participating in an advisory capacity on boards or committees. Here are some other ideas you can easily incorporate into your program to bring the family into the classroom—both directly and through activities that allow children to think about their families frequently throughout the day.
Create a family-friendly environment! Simple additions like extra coat hooks and chairs, a message board, or a special area for family members to settle in and play with or read to a child offer obvious signs of welcome.
Communicate! Newsletters, emails, weekly notes, parent-teacher conferences, and daily conversations will keep parents connected to the classroom and the progress of their children.
Invite family members directly into the classroom to share hobbies, cultural traditions, special recipes, family pets, etc.
Establish volunteer and social opportunities for families who have rigid work hours: after-work pot-lucks, craft preparation (which might include cutting or assembling), gardening, painting, fundraising, etc. Be creative and flexible.
During the day you can also bring a child's attention to her family and her place within it by the discussions and projects that you undertake in the classroom.
Make a collage! Allow children to cut (or choose pre-cut) and paste pictures of activities their families enjoy, pets that resemble their own, etc. to create a special collage.
Help children create a family tree. For very young children, this "tree" might simply be naming everyone in their immediate households and the others who are special to them—including pets, imaginary friends, and toys!
Read good books! There are many, many excellent children's books that affirm the diversity of today's families.