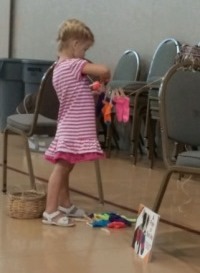 What is an "Un-Toy"? At 4C Play & Learn we refer to things that most people have around the house that can be turned into play materials as "Un-Toys". These inexpensive items can provide hours of fun for children while they practice important developmental skills. This month: Socks & Clothespins
Materials
Variety of pairs of socks
Clothespins (spring type)
2-3 feet of twine or yarn
Basket (optional)
Instructions
Tie twine or yarn between two chairs so that it is the right height for the child you care for.
Put the various socks (unpaired) into a small basket.
Encourage the child you care for to hang the socks on the twine clothesline. Variation: match the socks into correct pair before hanging them.
Develops
Math concept of sorting and counting, pincer grip needed for future writing, focus and self-control.