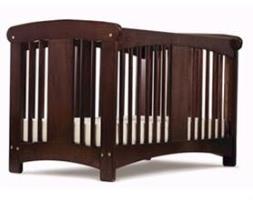 Often times, Coaches are asked by child care providers why infants, especially those with reflux issues or who have sleeping issues, must sleep in a crib. These providers understand that sleeping in cribs is mandated by licensure, but are unsure of the logic behind the regulations. We hope that this article, borrowed from Healthy Child Care Iowa, will help enlighten caregivers to the reasons behind why infants and toddlers must sleep in cribs. For more information on Safe Sleep practices, please contact our Infant Toddler Specialist, at (812) 423-4008.
Infants in child care should be placed on their backs to sleep, in furniture manufactured for sale in the United States as infant sleep equipment. Studies show that infants sleeping in a semi-seated position, such as in a car seat, swing, bouncy seat, etc., can have their blood oxygen level drop to such a low level that brain cell damage occurs. Positional asphyxia is a type of suffocation that occurs when the body is put in a position that restricts airflow. In infants, positional asphyxia can occur when they are placed in a semi-seated position. Positional asphyxia can occur due to the prominence of the occiput (back of the head), as well as the overall lack of neck muscle strength, which forces the head to slouch forward pushing the infant's chin down against his/her chest. This body position causes the windpipe to narrow or close.
The invention of the infant car seat carrier changed the care methods for infants in the United States. Parents and caregivers have adapted this vehicle passenger restraint device into positioning devices for feeding, sleeping, play and as an infant holding device. In addition, manufacturers have created and adapted other equipment such as restaurant high chairs, shopping carts, stroller bases or "travel systems" to accommodate and further propagate the use of infant car seats for purposes other than protecting the infant during a motor vehicle crash. However, the fact remains that infant car seats are passenger restraint devices designed and intended to absorb and distribute crash impact forces over the infant's body while keeping the infant secure in the vehicle during a motor vehicle crash. Passenger restraint devices are essential protection for infants traveling in motor vehicles. Reviews of infant deaths in passenger restraint devices, however, show that the majority of infant deaths in car seats are not occurring when the infant is being transported in a vehicle, but rather when the infant is being cared for indoors.
In addition, the federal Consumer Product Safety Commission (CPSC) has issued safety alerts regarding the strangulation hazard for infants and young children in strollers, bouncy seats, and similar equipment when the infant gets caught in the straps or slips into positions that trap him/her against hard parts of these devices. The CPSC has reports of infant deaths when seating devices have overturned. Infants wiggle, even during sleep, and when left unattended, can overturn a seating device. When the seat turns over, the infant can become pinned under the seat and suffocate. A common misperception among health professionals as well as many caregivers is that sitting up will help reduce an infant's reflux (spitting up). According to Dr. Susan Aronson with the Pennsylvania Chapter of the American Academy of Pediatrics, there is a lack of evidence to support this widely held belief, and a recent study actually showed that sitting in an infant seat is worse for reflux than lying flat.
The bottom line is that car seats, swings, infant seats and similar devices should not be used as sleep equipment. Parents and child care providers should transfer infants who fall asleep in one of these devices to a crib, except when the infant is being transported in a vehicle. In addition, the use of swings and other types of upright seating devices for sleep is strongly discouraged. Infants can suffer serious harm from sleeping in equipment not designed for sleeping. Infants who are awake should be placed in a safe play area on the floor. Infants need this tummy time to develop their muscles. Direct supervision is always required no matter which equipment is used.