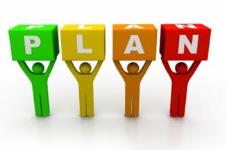 As your child care program heads into the summer months, you may find yourself dreaming of sunny days spent outside with the children, having fun on "water days" with sprinklers and hoses, and the addition of fresh fruits and veggies to your menu from your outdoor garden. You're far less likely to be dreaming of the conferences and trainings you want to go to on evenings and weekends. Professional development doesn't have to be boring or uninspired. By creating an intentional, thoughtful professional development plan, you and your staff can participate in experiences which are both relevant and meaningful for yourself and your program. It's time for the early childhood field to see professional development as an essential benefit of the job, just as much as paid time off or insurance. The workforce is too precarious to go without it for long, and early childhood practitioners deserve time and attention for their own growth and development.
What should you consider when building your professional development plan? If you participate on Paths to QUALITY™, your coach will have a model you can use for yourself and your staff. It includes the following:
Mission statement: It's important to consider your mission statement before planning for any professional development opportunities. If you don't currently have a mission statement, ask yourself why you started in the early childhood field. What did you hope to bring to the children you work with? What kind of difference did you hope to make? Did you wish to be an innovator when it comes to children's development and nutrition? Someone who helps to connect children with nature, or the world around them? Having these answers in mind will help you to select trainings to enhance your skills.
Program Strengths and Challenges: What does your program do well? What interests you and gives you passion? These answers can help you focus on training topics which will inspire you to try new things or ideas in the classroom. On the flip side, be 100% honest with yourself and ask "what do we need to improve upon? What challenges us?" These answers will help you select trainings which will assist your growth as a teacher, both personally and professionally.
Topics to consider include:
-Child/Youth Growth and Development -Developmentally Appropriate Content
-Health, Safety, and Nutrition -Family and Community Partnership
-Child/Youth Observation and Assessment -Management and Administration
-Learning Environment and Curriculum -Professionalism/Ethics
Goals and Action Steps: Now that you have your strengths and areas of growth in mind, it's time to set some goals for yourself. First, what is your overall goal for your program? For example, what do you want to improve upon for the children in your care and their families? Or, what major accomplishment do you want to achieve (or be working towards) over the next 12 months?
Next, break your overall goal into three manageable program goals. Ask yourself, "What do I need to do to get myself to my overall goal?" For example, if your overall goal was to complete your CDA, then one program goal might be to apply for a TEACH scholarship.
For each program goal, set three to four action steps that you will need to do to reach your goal. In the TEACH scholarship example, one of the action steps might be to call your TEACH counselor by the end of next week. Another action step would be to complete the application packet and return it your counselor by the end of the month.
By the time you finish this step, you should have one overall goal, three program goals, and at least three to four action steps for each program goal.
Calendar of Professional Development Activities: All of the previous steps above have led to this: the selection of the trainings, conferences, and educational opportunities you wish to attend over the next few months. Before you select any professional development opportunities, remember—trainings should not be selected "willy-nilly" based upon your availability on any given night or weekend. Remember to consider your mission statement, strengths and challenges, and goals/action steps. We hope that by creating a professional development plan, providers will intentionally select trainings to advance their current skill set, or take the opportunity to grow their knowledge base.
Options for selecting trainings include:
-4C's Quarterly Training Calendar: for face-to-face trainings, available online at https://child-careorg.presencehost.net/news/calendar.html
-IACCRR's Training Central: for a list of webinars (look under "Trainings" and "Webinars"), located at www.iaccrr.org
-The Early Childhood Webinar Resource Guide—for more information on this list of early childhood training websites, please call your Paths to QUALITY Coach.