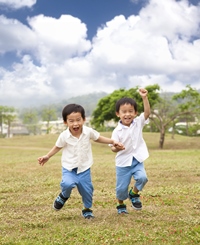 Spring is right around the corner! That means there will be more opportunities to go outside.
1. You cannot EXPERIENCE the outdoors when you are inside! You have to be out to experience nature and the natural world.
2. It is where you cultivate & learn environmental values and awareness.
3. It is where we came from.
4. Children are physical, multi-sensory beings.
5. Are they hyper? Or Inactive?
6. Current obesity "crisis".
7. There is freedom in outdoor play.
8. Connections with the community.
From Lisa Murphy's website, www.ooeygooey.com.
"Being outdoors is Mother Nature's Ritalin" – Richard Louv, author of Last Child in the Woods