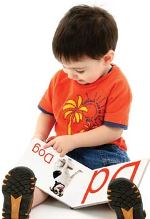 What child doesn't love to be read to? There are wonderful benefits for both you and the child when you grab a book and cuddle up for a story or two. Avoid challenging behaviors in a classroom by teaching the children about their feelings just as we would teach them their alphabet, numbers and how to write their names.
One of the easiest ways to address difficult concepts with young children is through stories and books. The characters in the stories are relatable, and will lead to discussion about difficult situations.
Check out a few of these books and help your children deal with their own feelings!
-Alicia Has a Bad Day (2002), by Lisa Jahn-Clough
-The Chocolate-Covered-Cookie Tantrum (1999), by Deborah Blumenthal, illus. by Harvey Stevenson
-Finn Throws a Fit (2011), by David Elliott, illus. by Timothy
-I Am Happy: A Touch-and-Feel Book of Feelings (2003), by Steve Light
-Llama Llama Mad at Mama (2007), by Anna Dewdney
-If You're Happy And You Know It (2007), by James Warhola
-I'll Always Come Back! (2002), by Steve Metzger, illus. by Joy Allen
-Mouse Was Mad (2012), by Linda Urban, illus. by Henry Cole
-Taking a Bath With the Dog and Other Things That Make Me Happy (2007), by Scott Menchin illus.by Marieka Heinlen
-When I Am/Cuando estoy (2004), by Gladys Rosa-Mendoza, illus. by Dana Regan
-When I Feel Angry (2000), by Cornelia Maude Spelman, illus. by Nancy Cote
-When Sophie Gets Angry—Really, Really, Angry . . . (2004), by Molly Bang
-Baby Faces (1998), by Margaret Miller
-The Feelings Book (2000), by Todd Parr
-A Color of His Own (1997), by Leo Lionni
-Hands Are Not For Hitting (2002), by Martine Agassi illus Basil Ering
-I Was So Mad (2000), by Mercer Mayer
-Mean Soup (1995), by Betsy Everitt
-No Matter What (2011), by Debi Gliori
-Oops! A Diaper David Book (2005), by David Shannon
-Lots of Feelings (2003), by Shelley Rotner
-My Many Colored Days (1998), by Dr. Seuss, illus. by Steve Johnson and Lou Fancher
-Teeth Are Not for Biting (2003), by Elizabeth Verdick