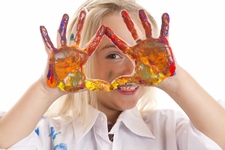 Children and adults learn best and retain the most information when they engage their senses. Many of our favorite memories are associated with one or more of our senses. For example, the smell of a summer night campfire or a song you memorized the lyrics to with a childhood friend. Now, when your nostrils and eardrums are stimulated with those familiar smells and sounds respectively, your brain triggers a flashback memory to those special times. By giving children the opportunity to investigate materials with no preconceived knowledge, you're helping them develop and refine their cognitive, social and emotional, physical, creative and linguistic skill sets.
Cognitive
The most obvious cognitive skills sharpened by sensory play are problem solving and decision making; simply present a child with a problem and various materials with which to find a solution, and you can almost see the connections their brains are making.
Linguistic
Children can't define parts of language until they've experienced the true meaning of the word.
Social and Emotional
Certain sensory play options, like sensory tables, allow children to be in complete control of their actions and experiences, which boosts their confidence in decision making and inspires their eagerness to learn and experiment.
Physical
Fine motor skills are often defined as the coordination of small muscle movements (usually hand-eye coordination) that enable us to perform a variety of important tasks.
Creative
Sensory experiences provide open-ended opportunities where the process is more important than the product; how children use materials is much more important than what they make with them. Prompting children to think creatively in order to solve problems or engage in make-believe helps them express their creativity and build self-esteem.
For information about 4C's Faith Based and Preschool program, contact Christy Smith at 866-200-5909 ext. 107 or csmith@child-care.org.