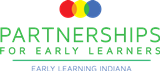 4C is a proud partner of Partnerships for Early Learners, an innovative campaign to increase access and quality of early childhood programming across Indiana. With the generous support of the Lilly Endowment, Early Learning Indiana and partners aim to ensure that 75 percent of Indiana's children in child care or preschool are connected with a high-quality program and that their families are engaged and supported.
Click on the links below to learn more about 4C and Partnerships for Early Learners initiatives in Southwest Indiana:
For more information on Partnerships for Early Learners or Early Learning Indiana, visit partnershipsforearlylearners.org.