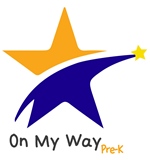 If your child will be 4 years old by August 1st and your family meets other program requirements, you can apply for On My Way Pre-K, Indiana's first pre-kindergarten funding for high-quality pre-K programs located within your community.
Find out if your child is eligible or to apply online visit: www.onmywayprek.org or call 1-800-299-1627.
The Office of Early Childhood and Out-of-School Learning (OECOSL) is pleased to announce a new Provider Information Web Site http://providers.brighterfuturesindiana.org/ for the On My Way Pre-K program. The web site includes information about the program and the application process, as well as frequently asked questions. It also includes names and contact information for people who can walk you through the process. If you are confused about On My Way Pre-K requirements or if you would like to join the program, be sure to check out our new Provider Information web site today. If you have any questions, contact Beth Barrett, OECOSL Pre-K Manager at 317-234-8882 or via email at Beth.Barrett@fssa.in.gov.