Information for Families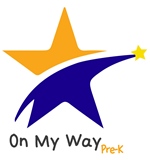 On My Way Pre-K provides grants to eligible families seeking high-quality early childhood education for their 4-year-old child. Eligible families must live in Vanderburgh County and have a household income at or below 127% of the federal poverty guideline--about $30,000 for a family of four.
Recently passed legislation has updated family eligibility for the 2017-2018 school year. Families will now need to verify that they are working and/or attending an accredited or certified education/training program to be eligible for this grant. Families can contact intake agents for details about this additional eligibility requirement and for information about other subsidized, free pre-K options if needed.
Once a child has received a grant, parents may choose from any of the approved On My Way Pre-K programs. Indiana's Office of Early Childhood and Out-of-School Learning is currently enrolling high-quality programs which are either top-ranked at level 3 or level 4 on Paths to QUALITY or are accredited by an approved national or regional accrediting body.
Visit this page often for the latest information. You can also go to www.onmywayprek.org to learn more.
Click the image below to search for On My Way Pre-K Providers!

Funded by the Indiana Family and Social Services Administration, Office of Early Childhood and Out-of-School Learning.